Meet Our Staff
Jorge L. Llaurado, PT, MS, MCMT - Owner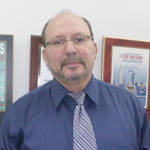 Mr. Jorge L. LLaurado graduated from Mercy College with a Bachelor of Science and Master of Science degrees. He has over 10 years experience, always treating his patients with respect and professionalism. He gives his complete dedication to see that his patients succeed in meeting their rehabilitation goals.
Jorge has completed a highly regarded year long manual therapy course and extensive continuing education in orthopedic rehabilitation. His areas of specialization include the spine, foot and ankle rehabilitation, sports rehabilitation, and geriatric rehabilitation. Jorge specializes in Trigger Point, Manual Therapy and Orthopedics Rehabilitation for all ages. He has been a member of APTA since...
For over 10 years Jorge has practiced physical therapy in an outpatient capacity with emphasis on manual therapy. His goal is to provide excellent care in a tender and loving environment with emphasis on prevention. Jorge is a strong believer that in order to provide excellent care, a therapist must establish an honest yet professional relationship with his/her patients, empower himself through yearly continuing education courses while empowering the patient through education and HEP. "When a sincere trust between therapist and patient is established the patient's recuperation is accelerated because both are working as a team towards the same goals".
In Jorge's off hours, he enjoys to spend time reading, traveling, going to the gym and being with his wife and family.